Why Choose an Interest Checking Account?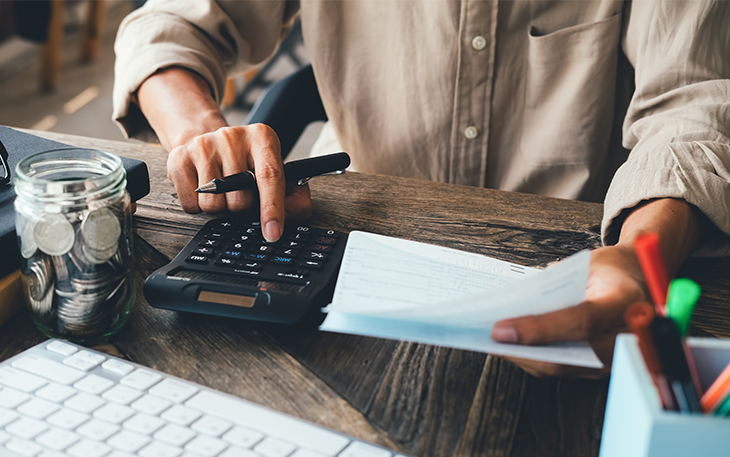 Q: I'm looking to open a new account to keep my savings and I'm wondering if I should go with another savings account or an interest-bearing checking account. What are the benefits and disadvantages of such a checking account?
A: An interest-bearing checking account — a dividend-bearing checking account, like SouthPoint's Premium Checking — can be a powerful financial tool to help your money grow. Let's take a closer look at this popular account and what sets it apart from other financial accounts.
What is an interest-bearing checking account?
An interest-bearing checking account, like our Premium Checking Account, is a checking account that accrues interest/dividends at a set rate. SouthPoint's Premium Checking gives you the chance to earn higher interest the more you use your account. This tiered account provides potential high yield interest the more you participate in the cooperative of the credit union, and can earn up to 2.01% APY*. In addition, you can track funds through Bill Pay, ACH and debit card use. and utilize electronic money movement like Zelle.
Traditional checking accounts do not earn interest/dividends since they're designed to be used to hold funds for everyday expenses. Savings accounts do earn interest, but accessibility of funds is limited because these accounts are designed and intended to be used for long-term savings rather than everyday transactions. A checking account that earns interest blends the best of these two accounts by offering an attractive rate, or annual percentage yield (APY), while allowing for greater accessibility of funds over a savings account.
What are the benefits of an interest checking account? 
There are several key advantages to opening an interest/dividend checking account:
Accessibility of funds. Unlike a savings account, the funds in an interest checking account can be accessed at any time via debit card, paper checks, automatic electronic payments and online bill payments.
Interest. Interest will accrue on the account balance and be paid out periodically.
Security. Most dividend checking accounts at credit unions are backed by the National Credit Union Administration (NCUA).
Low or no fees. Maintenance fees on interest checking accounts tend to be nominal. Some financial institutions do not charge any fees on these accounts at all.
Banking benefits. An interest checking account often provides the account holder with access to other benefits, including online banking, overdraft protection, access to mobile banking apps, automatic payroll deductions and more.
Why would a consumer choose an interest-bearing or dividend-bearing checking account over a savings account?
As mentioned, interest checking accounts offer the key features of checking accounts and savings accounts. Unlike a savings account, which does not allow the account holder to withdraw funds as needed, you can access these funds in your checking account at any time. This provides greater flexibility and makes these accounts an excellent option for an individual who is seeking to grow their money without tying it up in case they need to withdraw funds in the near future.
Types of interest checking accounts
Not all interest checking accounts are created equal. While exact features and structure differ with each financial institution, there are two primary categories for interest/dividend checking accounts:
Standard interest checking accounts. These accounts pay lower interest rates but also impose less-stringent requirements. Some institutions pay a higher interest rate as the balance in the account increases. Fees on these accounts may include maintenance fees, overdraft fees, and fees for using an ATM not belonging to the financial institution.
Rewards checking accounts. These accounts, also called high-yield or high-interest checking accounts, pay a more competitive APY than standard interest/dividend checking accounts, but have more stringent requirements, such as a minimum number of debit card transactions each month. In addition, interest is often awarded in a tiered structure, with the highest rate only awarded to accounts that meet a minimum balance. The APY gradually decreases by tiers along with the account balance. Finally, there can be a cap on the amount of money that can accrue interest at the highest offered rate.
If you choose to open a rewards checking account, consider setting up recurring monthly payments to be automatically charged to your debit card so you meet the required number of monthly transactions – and make sure they are settled/posted by the end of the rewards cycle.
An interest-bearing checking account can be the perfect place to grow your money without tying up your funds. Are you ready to start putting your money to work with a dividend-bearing checking account? A SouthPoint Financial Credit Union Premium Checking Account offers an attractive dividend rate of 2.01% APY*, and easy eligibility requirements. Call, click, or stop by one of our seven branches to learn more!
*Variable rates. Rate may change after the account is open
**Tier 1 – No requirements
***Tier 2 – eStatements, & Direct Deposit of $500 or more monthly
****Tier 3 – eStatements, Direct Deposit of $500 or more monthly, & 20 or more debit card purchases
Fees may reduce earnings on the account.
Rates effective as of February 19, 2022