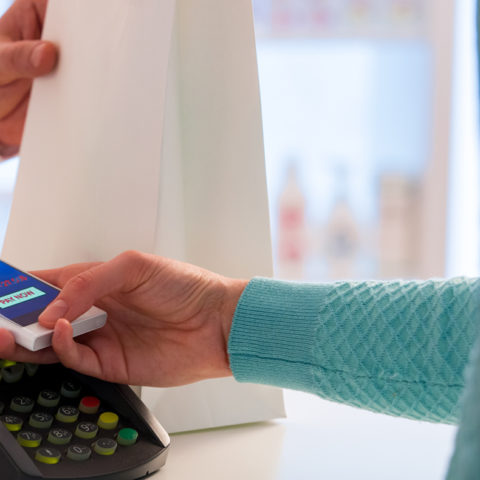 Ready for easy, secure and private payments?
Paying in stores or within apps has never been easier, safer, or more private with Mobile Wallet.
Don't fumble with cash or cards in the grocery store line — just pay with your smartphone. Simply tap your Apple®, Android™ or Samsung® phone at the pay station of participating merchants to pay for groceries, lunch, clothes — whatever. Start paying from your smart device today.



Fast, convenient checkout
Check out with the touch of your finger using digital wallet payments on your smartphone. Mobile wallet apps like Apple Pay, Samsung Pay or Google Pay let you pay in-store and online with the touch of a finger.
Easy enrollment
SouthPoint's Visa debit and credit cards are compatible with major digital payment apps. To enroll in most wallet apps, you can just snap a picture of your SouthPoint card, type in a few more details, and you're all set. Your future checkouts will be faster and safer.
Online shopping, donations & P2P
Digital wallet services like PayPal let you pay online, make donations and transfer money to friends. Peer-to-Peer digital payment services like Venmo let you easily transfer money (from a credit or debit card or your checking account) to friends to pay your share of the rent or easily split up a bill.
Fingerprint security
Your phone's fingerprint ID/login adds another level of protection. Even if your phone is lost or stolen, your mobile wallet can't be used, unlike if you lose a wallet containing your actual credit or debit card.
Protection from data breaches
When you use a mobile wallet, the store or restaurant where you paid only receives a single-use code – not your name, card number or security code – so you're better protected. Even if a store or restaurant where you used a mobile wallet were hacked, your card number wouldn't be compromised.
Set up is simple. Here's how to add your SouthPoint Credit and Debit Card to your Mobile Wallet
Apple Pay
On iPhone® open the Wallet app and tap the plus sign. From there, follow the onscreen instructions.
On Apple Watch™ open the Apple Watch app on your iPhone and select "Wallet & Apple Pay," then tap "Add Credit or Debit Card." From there, follow the onscreen instructions.
On iPad® go into Settings, open "Wallet & Apple Pay," and select "Add Credit or Debit Card." From there, follow the onscreen instructions.
Samsung Pay
Make sure your compatible Samsung device is updated with Samsung Pay
Take a picture of your SouthPoint Visa Credit and Debit card with your device's camera
Secure it with your fingerprint and backup PIN and you'll be ready to go
Google Pay
Tap to launch the Google Pay app.
Tap the add card icon, which looks like a "+" symbol.
Tap add a credit or debit card
Follow along with the onscreen instructions. You'll have the option to scan your card using your phone's camera or manually enter your card information.