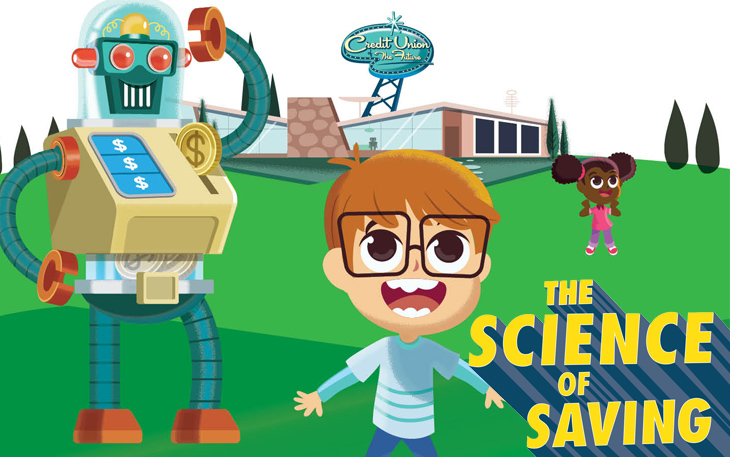 For 2019's Youth Month coloring sheet, click here. 
The theme for this year's Youth Month is "The Science of Saving," Using fun, sci-fi-inspired characters, it encourages youngsters to imagine a future where piggy banks fly and giant automatic-saving robots visit credit unions.
The science in the theme is not science fiction – research shows that when you picture yourself in the future achieving a goal, like buying a car or going to college, saving for it becomes easier.
Start small.
Help them save for a toy they want. Then, sign them up for a youth savings account where they save for far-off goals.
As your credit union, we want to help you teach your children good financial habits. Together we can help them blast-off toward a bright and wondrous future.
Join us in celebrating "Science of Savings," by clicking on the image below to print off our official Science of Savings Coloring Page. Drop off your completed drawing at any branch location or scan and email it to [email protected] to have your drawing included in the Facebook contest¹. All drawings will be uploaded to a Facebook album and the drawings with the most "Likes" will win a prize!
Also, join us in the National Credit Union Savings Challenge2! Deposit money into your savings, checking, or CD accounts for a chance to win $1,000.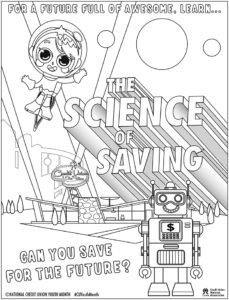 ¹Drawings to be used in the contest must be submitted to a branch or [email protected] and the Photo Release form must be filled out and signed by the parent/guardian. Winners will be notified by May 15, 2018. ²Deposits may be made to any account held (or co-held) by the youth, including savings, checking/share draft, and certificates. Deposits may be made in branch, automatically (ACH), remotely (ATM, mail), by adults to youth accounts, or by direct deposit. The National Youth Savings Challenge is FREE and open to all youth under age 18 who visit a participating credit union in April. While youth are encouraged to make a deposit at the credit union, no deposit is required to enter. Parents/Guardians giving permission for their youth to enter can submit on a 3" X 5" piece of paper to the following information to the credit union • Name • Date • Current Age. Limit one written entry per person. Entries received from persons residing in geographic areas in which entry is not permissible will be disqualified. Odds of winning depend on number of entrants. All entries must be made by April 30, 2018 at 11:59pm Central Standard Time. The Credit Union National Association (CUNA) will randomly select and give $1,000 to a participating credit union. The selected credit union will then randomly select a winner from its entrants. Winners will be notified by May 30, 2018. Credit union employees and immediate family not eligible.