SouthPoint Financial Credit Union Waconia now open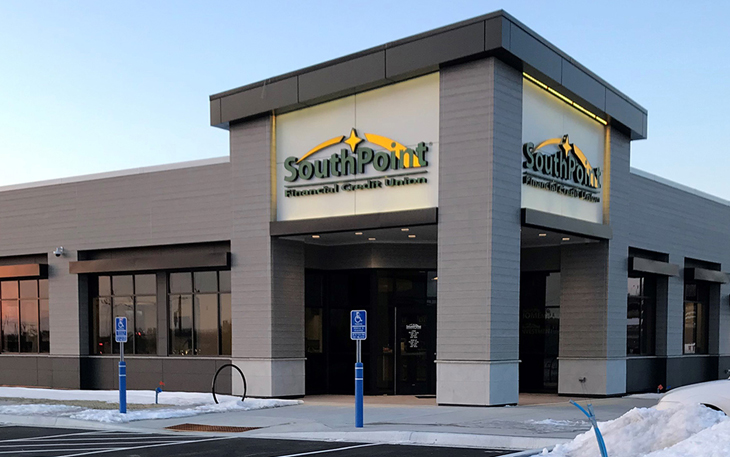 SouthPoint Financial Credit Union is thrilled to announce their Waconia branch is now open for business.
Waconia is SouthPoint's seventh full-service location and is located at 502 Cherry Drive. The not-for-profit is the first of its kind in Waconia and provides full transaction, deposit and loan services, plus houses two supporting divisions, SouthPoint Home Mortgage and SouthPoint Investment Services. The state-of-the-art Financial Center also features a drive-thru with ATM and night deposit drop.
"Our organization continues to grow and expand to meet the needs of the communities we serve and bring SouthPoint's not-for-profit, cooperative banking model to Waconia and the surrounding area," CEO Jay Gostonczik said. "The Waconia branch has been designed to promote an exceptional member experience and provide tremendous value through innovative technologies and a full suite of products and services to help people save money and live better."
SouthPoint Waconia invites members and the public to experience their new location and join them for a hot cocoa bar, member specials and giveaways throughout the week of Jan. 13.
"We're all extremely excited about our expansion into Waconia and to be able to offer the community alternative banking services that will further our mission in people helping people achieve their financial goals," Gostonczik said. "We believe that this new location will bring phenomenal value to both new and existing members. We hope the community will join us as we open our doors and celebrate."
As the first credit union in the Waconia community, Branch President Tom Battis said he is looking forward to the opportunity to help share SouthPoint's knowledge by creating productive relationships that add value for both members and the organization.
"With a team that is immersed in the Waconia community, we are very excited and look forward to welcoming new members into the SouthPoint family and encourage you to come and visit our beautiful branch and meet the team," Battis said.
Branch hours are 8:30 a.m. to 4:30 p.m., Monday through Friday and 8:30 a.m. to noon, Saturdays. Drive thru hours are 8 a.m. to 6 p.m., Monday through Friday and Saturday 8 a.m. to noon.