SouthPoint Financial Credit Union Expands Field of Membership in Minnesota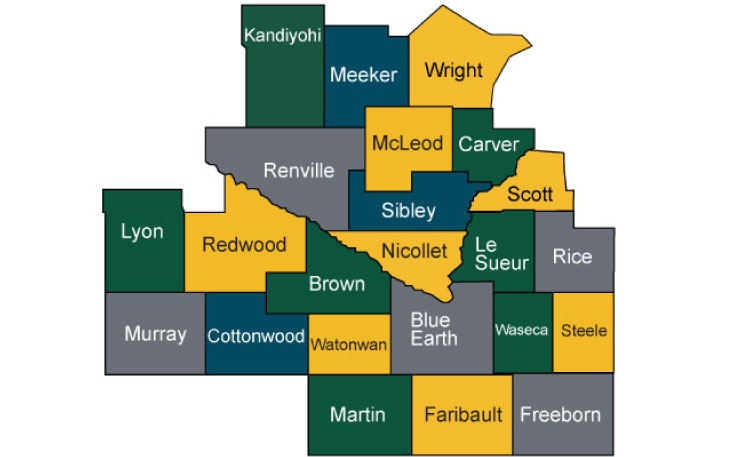 SouthPoint is excited to announce that that they have expanded its field of membership from 19 counties to 23.
Financial services provided by SouthPoint are now available to residents who live, work or attend school and businesses located in Blue Earth, Brown, Carver, Cottonwood, Faribault, Freeborn, Kandiyohi, Le Sueur, Lyon, Martin, McLeod, Meeker, Murray, Nicollet, Redwood, Renville, Rice, Scott, Sibley, Steele, Waseca, Watonwan, and Wright counties. Immediate family members of these residents are also eligible for SouthPoint membership regardless of where they live. In addition, membership is open to any individual outside the 23 counties who are patrons of the SouthPoint Financial Credit Union Foundation.
The expansion was approved by Minnesota's Department of Commerce and SouthPoint's Board of Directors and provides more people with convenient and affordable financial products and services.
"We are excited to have this opportunity," SouthPoint CEO and President Jay Gostonczik said. "We look forward to bringing these areas the benefits of a not-for-profit cooperative with personalized care and enhancing the financial lives of more individuals and communities."
The charter expansion is part of a longer-term strategic vision of continuing to grow and expand SouthPoint meaningfully. It provides the opportunity to continue to build a stronger branch network and enhance brand recognition in southern Minnesota. SouthPoint's continued focus on membership growth and convenient access helps enable SouthPoint to remain sustainable and continue to provide the most advanced and competitive products and services that add value to its members.
With the four-county expansion, existing SouthPoint member-owners will benefit as the health and strength of the financial cooperative is strongly dependent on its membership.
"The more active and engaged our members are utilizing SouthPoint's products and services, the better SouthPoint can provide low-cost financial products and services that add value to all members," Gostonczik said.