SouthPoint Financial CEO recognized in Washington, DC for industry achievement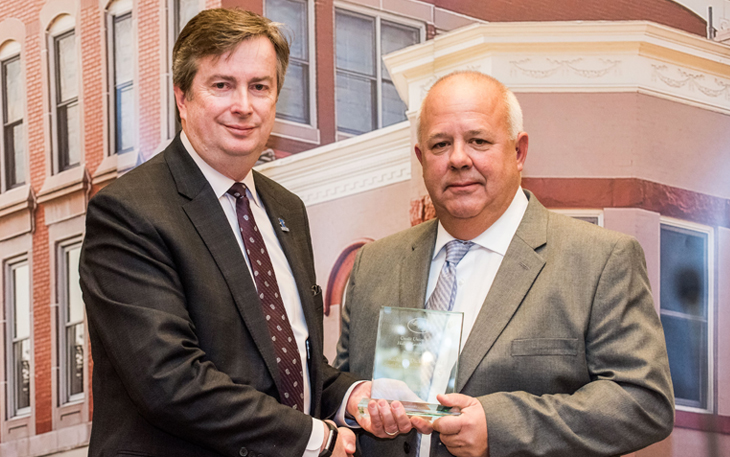 (Sleepy Eye, MN – February 28, 2018) – Dick Nesvold, SouthPoint Financial Credit Union President and CEO, was inducted in the Credit Union House Hall of Leaders in Washington, DC on February 25, 2018.
The Credit Union House is a permanent credit union presence in our nation's capital. The Hall of Leaders recognizes those credit union board members, CEO's or volunteers that inspire others in the credit union movement. The names of these inductees serve as a reminder to all that visit the Credit Union House of the individuals that have volunteered their time and who remain committed to the cooperative credit union principles.
Dick is a committed, dedicated industry advocate. In 2012, the World Council of Credit Unions (WOCCU) inducted him into its International Executive Volunteer Corps (IEVC) for his work on the Central de Cooperativas del Area Nacional (Paraguay) initiative. He is a former Board Chair of the Minnesota Credit Union Network, was the Minnesota Credit Union Network Professional of the Year in 2012 and was recognized as a Credit Union Rock Star by Credit Union Magazine in 2013. Dick currently represents Minnesota credit unions as a member of the Cooperative Network Board of Directors as well as the Minnesota Cooperative Education Foundation Board.
Click here to view the full list of 13 credit union advocates inducted in 2018.
SouthPoint Financial Credit Union is a not-for-profit financial cooperative that distributes profits among members in the form of lower loan rates, fewer and lower fees and higher savings rates. Membership is open to all residents and businesses in a 17-county area of southern Minnesota. For additional information visit southpointfinancial.com or call 877-794-6712.