Online And Mobile Banking Upgrade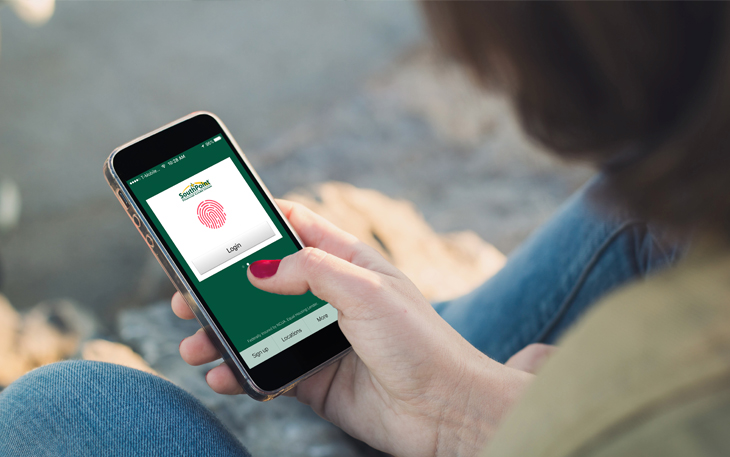 It is a privilege and an honor to be part of the technical team here at SouthPoint Financial Credit Union! As part of the technical team, I work with some of the new applications that can make life easier for our members. Our latest project was releasing a new online banking platform and mobile app that boast multiple new features including Quicken and QuickBooks Integration and Touch ID Authentication.
About the upgrade
My favorite upgrade with the new app is the fingerprint recognition that I have on my phone (Samsung Galaxy 6). If you have fingerprint recognition on your phone you can easily set up our new mobile app to allow access to your account by using your fingerprint. This saves me lots of time logging in and authenticating user names, account numbers and passwords. I can find out any critical info about my accounts in under a minute from anywhere in the world! I'm able to get into my account, access balances, transfer, do a mobile deposit, get tax info and be more financially in tune to all of my finances.
It was simple for me to switch from our old online/mobile banking to the new platform. To start enjoying the app for yourself, search "SouthPoint Financial" in the App Store or Google Play Store. Once you've downloaded the app, take your time setting up, and enjoy making your life a lot easier!
If you have already logged into the new online banking platform through southpointfinancial.com, enter your username and password. If you haven't logged in since 2/13/17, use your member number as the username and the last four digits of your social security number as the password.
For full details and instructions, visit the Online Banking Conversion Resource Center. You can also southpointfinancial.com to set up your account. Our Member Solutions team is here to assist you and can be reached by calling 877-794-6712!