Foundation Awards $10,000 to High School Seniors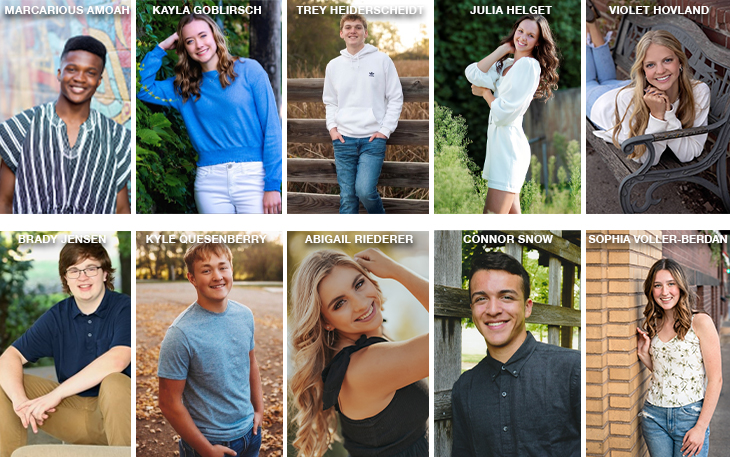 Ten area high school seniors have been awarded scholarships from the SouthPoint Foundation during their third year of giving.
Receiving a $1,000 scholarship each to help further their education are:
Marcarious Amoah, New Ulm; New Ulm High School
Kayla Goblirsch, New Ulm; Cathedral High School
Trey Heiderscheidt, Sleepy Eye; Sleepy Eye Public School
Julia Helget, Sleepy Eye; Sleepy Eye St. Mary's
Violet Hovland, Springfield; Springfield High School
Brady Jensen, Hutchinson; Hutchinson High School
Kyle Quensenberry, Springfield; Springfield High School
Abigail Riederer, Sleepy Eye; Minnesota Valley High School
Connor Snow, St. Peter; St. Peter High School
Sophia Voller-Berdan, Duluth; The Marshall School
SouthPoint Foundation received 89 scholarship applications in which the applicants answered the essay prompt "if you had the ability, what specific steps or offerings would you take to help improve financial education for high school students and young adults?" The essays were anonymously reviewed and scored by an internal committee.
"The SouthPoint Foundation is proud to support scholarships to members that our graduating high school in pursuit of higher education," SouthPoint Foundation President Troy Diedrich said. "With an increase from five to 10 scholarships in 2022, we are able to support the educational pursuits of even more of our member-owners."
SouthPoint Foundation will offer another scholarship opportunity to high school seniors in 2023.