Celebrate credit union youth month with SouthPoint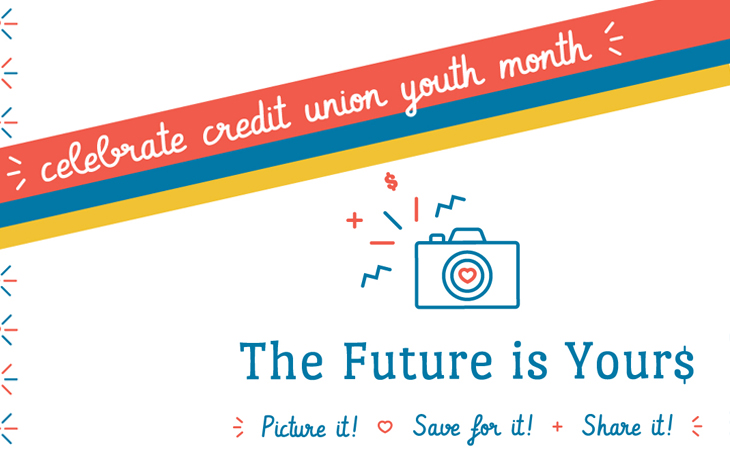 This year's theme for Youth Month is "The Future is Yours: Picture it! Save for it! Share it!" Dreaming of our ideal future delights us and inspires us. Children and youth, with their fertile imaginations are particularly good at dreaming. To make dreams come true, you need to have clear goals and, very likely, save money to make them happen.
For April's Youth Month theme, we're encouraging all members, but especially our youngest from 18 and under, to write down their dreams, create vision boards and encourage each other. We believe that these activities will help lay the groundwork for future success.
Putting your dreams and goals down on paper where you can see them every day actually helps you achieve them! Studies were conducted at Dominican University on the psychology of goal setting. The results revealed that writing down your goals on a regular basis makes you 42 percent more likely to achieve them than if you don't record them. They determined that using your imagination (right/creative brain) and writing those plans down (left/logical brain) engages your whole brain, including your subconscious. This makes it easier for you to find and seize opportunities that will help you achieve your goals, as well as keep you motivated.
Young members who begin a habit of envisioning and recording their goals are more likely to achieve future goals as adults. For "The Future is Yours: Picture it! Save for it! Share it!" we're encouraging all SouthPoint youth to draw what they're saving for! Stop in to any branch, or print off this PDF at home, Youth Month Drawing Sheet 2019. 
All coloring sheets will be uploaded to Facebook during the month of April and the three drawings with the most likes will win a prize.* For another way to win an awesome prize, participate in the National Credit Union Savings Challenge! Deposit money into your savings, checking or CD accounts for a chance to $1,000.**
*Drawings to be used in the contest must be submitted to a branch or [email protected] and the Photo Release form must be filled out and signed by the parent/guardian. Winners will be notified by May 15, 2019. **Deposits may be made to any account held (or co-held) by the youth, including savings, checking/share draft, and certificates. Deposits may be made in branch, automatically (ACH), remotely (ATM, mail), by adults to youth accounts, or by direct deposit. The National Youth Savings Challenge is FREE and open to all youth under age 18 who visit a participating credit union in April. While youth are encouraged to make a deposit at the credit union, no deposit is required to enter. Parents/Guardians giving permission for their youth to enter can submit on a 3" X 5" piece of paper to the following information to the credit union • Name • Date • Current Age. Limit one written entry per person. Entries received from persons residing in geographic areas in which entry is not permissible will be disqualified. Odds of winning depend on number of entrants. All entries must be made by April 30, 2019 at 11:59pm Central Standard Time. The Credit Union National Association (CUNA) will randomly select and give $1,000 to a participating credit union. The selected credit union will then randomly select a winner from its entrants. Winners will be notified by May 30, 2019. Credit union employees and immediate family not eligible.