American Heart Association recognizes SouthPoint for workplace health achievement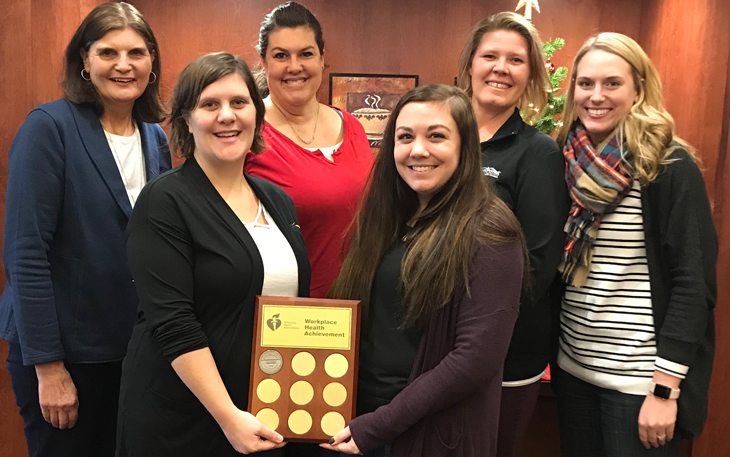 The results of the American Heart Association 2019 Workplace Health Achievement Index were announced today and SouthPoint Financial Credit Union achieved Silver recognition for taking significant steps to build a culture of health in the workplace.
SouthPoint Financial Credit Union initially launched their wellness program back in 2015. From what started on a small platform with physical fitness challenges, has since grown into a holistic wellness program that focuses on mind and body wellbeing in which over 95% of team members participate in.
The American Heart Association (AHA) created the Index with its CEO Roundtable, a leadership collaborative of more than 40 CEOs from some of America's largest companies who are committed to applying evidence-based approaches to improve their employees' overall health. The Index uses science-based best practices to evaluate the overall quality and comprehensiveness of their workplace health programs. Studies show that worksites with a culture of health with comprehensive, evidence-based policies and programs, and senior leadership support are more likely to have engaged employees and a healthier, more productive workforce.
The wellness program provided to staff at SouthPoint, doesn't just offer a wellness portal to track challenges; it offers certified health coaches that staff can reach to at any time to discuss a variety of item like creating an exercise plan, proper nutrition, meal planning, and even how to get better sleep at night. In addition, the program helps coordinate healthy potlucks and healthy provided snacks from SouthPoint, among other things.
With over 95% of staff participating, it's no wonder the program is seeing the successes it has.
"Overall, we wanted staff to have fun with the wellness program, while also seeing successful results," SouthPoint Wellness Champion Marlayna said. "This award signifies the hard work of our staff and represents the organization's commitment in helping employees in their journey towards continuous health improvement."
A unique feature of the AHA's Work Health Achievement Index is that it calculates an average heart health score for employees of participating companies that securely submit aggregate health data. Companies receive benchmarking reports, which allow them to identify potential areas of improvement so that they can advance their annual performance and recognition.