The Easy Way to Pay for College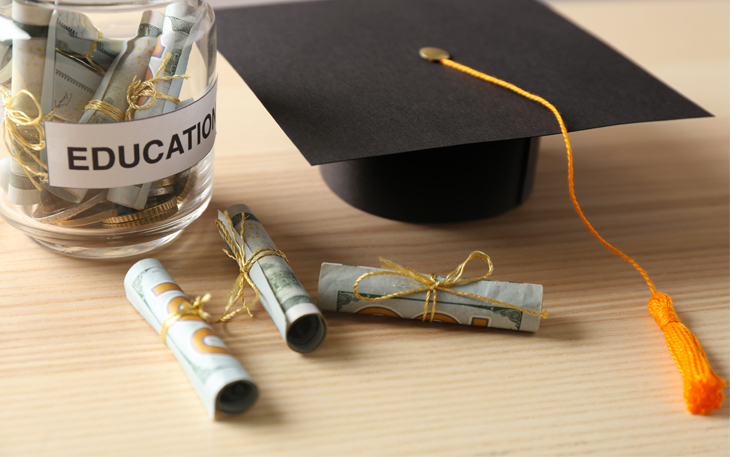 For many, college classes will resume in a few short weeks and high school seniors will begin the process of applying for college, financial aid and housing.  That was me last fall; looking up what a student loan was and how I could get one. Now, as an incoming college freshman, I know all about loans, saving, planning, and scholarships. I am also aware, and still in shock, about the price that is paid for a single textbook. Here is information and some tips that will help you determine your options on how to pay for college.
Saving Every Little Bit Helps
Saving money can be a difficult habit to get into, especially for high school students or young adults who are just starting. By contributing an amount every month over a period of time, it will add up and saving will soon become a habit. For example, $50 a month over the course of five years will add up to $3,000. An extra $3,000 that could be used for textbooks, general living expenses, or as an emergency fund will greatly help lessen any financial burdens.  SouthPoint FCU offers a 529 savings plan that can be started early for a child to use later when college comes.
Apply for Free Application for Federal Student Aid (FAFSA) Early
You can apply for financial aid through FAFSA as early as a year before you will begin college. When you fill out your FAFSA application, you are providing them with an estimate of how much your tuition and living expenses will be. Then they take into consideration how much money you will need according to your parent's income, savings, and other assets. FAFSA can provide you with grants that do not require repayment and subsidized and nonsubsidized federal loans. For more information on where and how to apply for FAFSA, please visit https://studentaid.ed.gov/sa/fafsa.  If additional money is needed, student loans can be applied for and borrowed from right here at SouthPoint.
You Can Have FREE Money
By putting in a little effort in writing about your own goals, character, and passion you could be awarded scholarships. Check local scholarship donors, talk to your school counselor, and see if the college you are expecting to attend offers any scholarship opportunities. Along with local scholarships, Sallie Mae is a great search tool that will show you any scholarships it finds you qualified for.
A few tips for applying for a scholarship….
Hand it in ASAP. Sometimes a scholarship committee has only a certain amount of funds and they will be awarded on a first come first serve basis along with meeting the other criteria.
Proofread, proofread, and then have an English enthusiast proofread. I have heard high school and college counselors say that many times there are only a handful of applicants, and out of those applicants, even fewer are even qualified because they failed to fill everything out or had too many errors.
Realize how your time and effort now can greatly impact your financial situation in the future. By creating a single essay talking about your goals and why or how a scholarship award will impact you, you can use that as an outline for applying to all other scholarships. Spending two hours on a $500 scholarship means you are making $250 an hour which sounds like a pretty well-paying job.
Be sincere and yourself! You may not think of this, however, the people reading and judging your scholarship are people too! It is okay to throw in some humor or give your application some personality, this will make it stand out and be memorable from the others. Remember to show the scholarship committee your appreciation for not only their time for considering your essay but also for caring about education and providing students with financial help.
Applying for scholarships can often be the easiest way to reduce the cost of attending college. Remember that you are eligible for scholarships throughout your college career, not just your first year! Many scholarships are available to apply not only once but annually or even each semester.
Plan Now.
After the scholarships are awarded, you know how much you have in savings, and you have been awarded any financial aid, you can plan for how much money you will have after paying for tuition and living expenses. You may now want to consider getting a part-time job that will allow you to either have extra spending money each month or that will lessen the amount in student loans you will have to take out.