SouthPoint named Best Bank/Credit Union in New Ulm for second consecutive year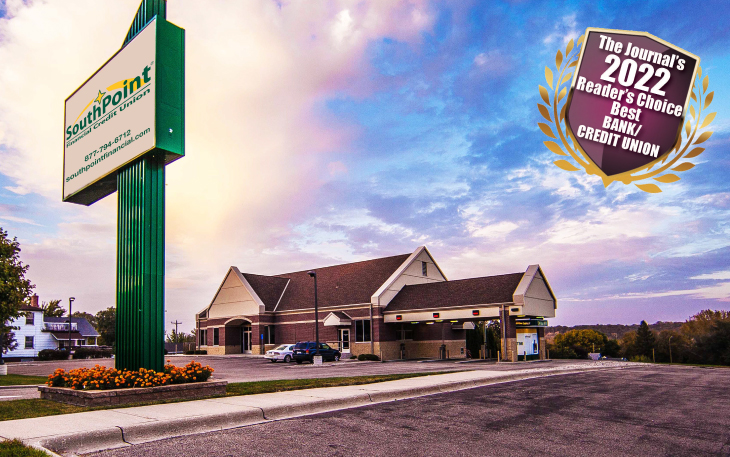 SouthPoint Financial Credit Union has been named the New Ulm Journal 2022's Reader's Choice Award for Best Bank/Credit Union for the second consecutive year. The recognition bestowed upon the not-for-profit financial institution, which has been serving the New Ulm community since 1936, is an honor to the more than 100 employees at the credit union.
"The Journal's Best Of recognition demonstrates that we are living true to the credit union philosophy of people helping people," SouthPoint President and CEO Jay Gostonczik said. "We are extremely proud of the important work we do to add value to not only our members, but to our communities as well."
With more than 28,750 members across Minnesota, membership to SouthPoint is open to residents within 23 counties of the state, and to donors of the SouthPoint Financial Credit Union Foundation. With deep roots in the community for more than 86 years, many people are familiar with the credit union, but may not realize the uniqueness that a cooperative financial institution brings to its members.
"When someone becomes a member of the credit union, they are becoming an owner of SouthPoint," Gostonczik said. "Not only are we a not-for-profit cooperative, but we are a better banking alternative focused on living out our mission to help improve the financial well-being of our member owners with every interaction. This is a people centered business, and our member owners are the reason we exist. In addition to building extremely strong relationships, we care deeply about their financial future, and provide value through lower rates on loans and higher rates on deposits. SouthPoint offers members a full range of products and services that are valuable throughout their lifetime."
Over the past six years, SouthPoint has grown by four branches (to a total of seven), has expanded from 60 employees to 105, and increased its membership size from 18,506 to 28,753.
SouthPoint, and its divisions of SouthPoint Investment Services and SouthPoint Home Mortgage, provides its members with everything they will need to secure a successful financial future.
"We enjoy getting people started with their lives 'firsts,'" Gostonczik said. "From guiding them from their first savings or checking account, first home purchase, first auto loan, to college, marriage, children, investment planning and retirement, their financial future is the point. I think people are seeing that we are a better banking choice, and a better option for all of their financial needs."
Gostonczik notes that SouthPoint's volunteer-led Board of Directors and Community Advisory Committee have been great resources that have helped guide the organization over the years to the success it has today.
"Thank you to the staff and all of our members," he said. "As a people business, this recognition shows that if you put your values in the right place, people can't help but take notice and want to be a part."