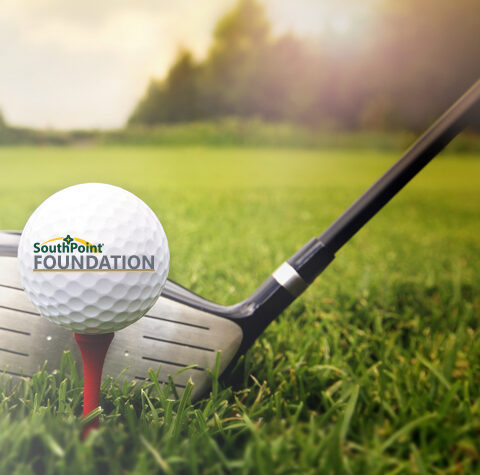 Join us for our SouthPoint Foundation Golf Tournament
2022 Inaugural Golf Tournament
Mark your calendar for SouthPoint Foundation's Inaugural 2022 Golf Tournament fundraising event on Monday, August 22, at Island View Golf Club in Waconia, Minnesota. Please consider sponsoring, golfing or both!
Schedule:
11:00 a.m. — Registration and lunch
12:00 p.m. — Shotgun start, 18 holes, 4-person scramble
5:30 p.m. — Dinner, presentation and prizes
Tournament Sponsorship Opportunities
By helping sponsor our Inaugural Foundation Golf Tournament, you are directly supporting the SouthPoint Foundation. All proceeds help fund the SouthPoint Foundation in its mission of supporting charitable initiatives in the 23 counties we serve. Our sponsorship levels are listed below along with details of the recognition you'll receive as an event sponsor.
---
Titanium Sponsor – $3,000
As a Titanium Sponsor you will get:
2 team entries
2 tee box sponsors
8 lunches
16 drink tickets
Opportunity to provide promo item for raffle prizes and recognition
---
Platinum Sponsor – $1,500
As a Platinum Sponsor you will get:
1 team entry
1 tee box sponsor
4 lunches
8 drink tickets
Opportunity to provide promo item for raffle prizes and recognition
---
Gold Sponsor – $750
As a Gold Sponsor you will get:
1 team entry
4 lunches
4 drink tickets
---
Individual – $200
As an Individual you will get:
Individual entry
1 lunch
1 drink ticket
---
Additional Sponsorship Opportunities
Beverage Cart Sponsor -$600 (2 available)
Name/business featured on beverage cart
Lunch Sponsor – $600 (2 available)
Name/business featured on signage
Dinner & Awards Sponsor – $600 (2 available)
Name/business featured on signage
Range Sponsor – $400 (3 available)
Name/business featured on range signage
Contest Sponsor – $400 (6 available)
Closest to the Pin (Men and Women); Longest Putt (Men and Women); Longest Drive (Men and Women)
Tee Box Sponsor – $200
Your name/business featured on tee box signage
The SouthPoint Financial Credit Union Foundation is a 501(c)(3) non-profit registered in the US under EIN: 82-3572824