SouthPoint Financial Hosts Dollar Dog Pool Day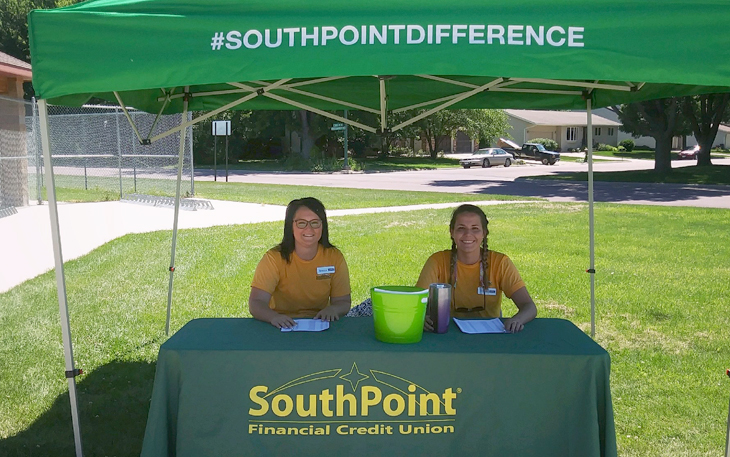 (Sleepy Eye, MN – August 21, 2017) – On Saturday, July 29, 2017, SouthPoint Financial Credit Union treated members to a day of free admission at the Sleepy Eye Aquatic Center.
Each year, SouthPoint Dollar Dog Kid's Club members (age 0-11) and their immediate family members are invited for a day of fun in the sun at the Sleepy Eye Aquatic Center. Once they arrive at the waterpark, they are also given two $1 tickets to use at the concession stand. This year, over 260 members were able to attend Dollar Dog Pool Day.
"We have been hosting a 'Kid's Day' in some form for 14 years and have found that treating families to a free day at the waterpark gives them a fun activity to do in the summer months, when it can be difficult to find free family events," said Troy Diedrich, Vice President of Marketing and Development. "This event is always a big hit with both the youth and their parents."
Members age 0-11 automatically belong to the Dollar Dog Kid's Club and are invited to attend multiple events throughout the year including Pool Day, Trick-Or-Treating, Santa Day, and more. Dollar Dog members also benefit from a Dollar Dog Savings Card in which they get stamps for making deposits and earn money back, SouthPoint's Dollars for A's program, and receive a "Happy Birthday" postcard with a $1 deposit into their savings account each year.
SouthPoint Financial Credit Union is a not-for-profit financial cooperative that distributes profits among members in the form of lower loan rates, fewer and lower fees and higher savings rates. Membership is open to all residents and businesses in a 17-county area of southern Minnesota. For additional information visit southpointfinancial.com or call 877-794-6712.