Santa Claus is coming to town
It isn't even Thanksgiving yet but, yes, we can tell that the jolly man in the red coat is coming, so you better get saving!
The holiday season is weeks away, but the Christmas displays are out in full force in most stores. Family members are already sending you their wish lists and making sure that you know what side dish to bring to dinner. Not to mention, you may have four different places to visit in just one day. I'm not sure how that jolly fella does it!
Package all of that together with the excitement of seeing family members that you may only see once or twice a year. Are you prepared? Not just prepared for the goofy uncle or wacky aunt, but the cost? The holiday season includes travel expenses, food for the dinners you're hosting and not to mention the gifts. Have you saved enough?
"Saving is too hard these days, and why save when interest rates are so low?" you ask. It's still important to save, even if it's hard and rates are low. Having money in your savings account will protect you from financial hardship if an emergency were to arise.
What if I told you, you can start with a dollar this week and by increasing by a dollar each week you will have $1,378 by this time next year? That would certainly take the sting out of the holiday shopping! It's called the 52 week challenge. By starting week one with $1 and increasing to $2 dollars in week two, $3 in week three and so one and so forth for 52 weeks, in the end you will have $1,378. You may even want to consider putting that money into a Holiday Club account to earn a higher interest rate.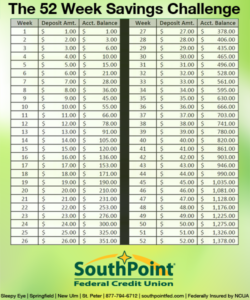 You can see how it is actually quite easy to save money for those emergencies or holidays. And in the event that a loved one tries to deep fry a frozen turkey, a holiday emergency.