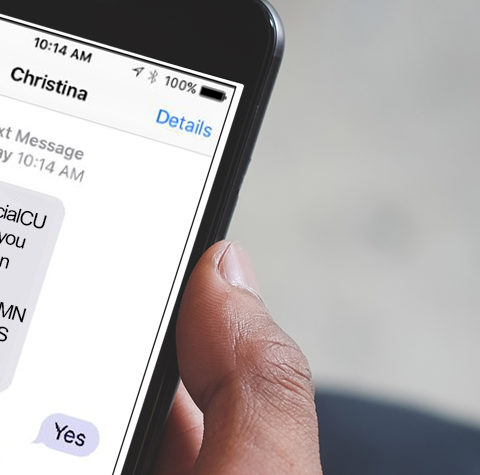 Instant Fraud Text Alerts
SouthPoint Financial Credit Union partners with EnFact, a fraud protection services to continuously monitor your SouthPoint debit cards. Our Fraud Text Alerts service is free* to members and helps us identify and prevent fraudulent transactions on your accounts. In the event a transaction occurs on your debit card that is unusual or outside of your normal spending patterns, it may prompt us to contact you via text message to confirm the transaction.
How do I enroll?
If you have a SouthPoint Financial Credit Union debit card, you're automatically enrolled and don't need to do anything. If we have your mobile phone number on file, you will receive fraud alerts via text message. If you do not have a mobile phone number on file with us, we will contact you at the home phone number we have on file.
What will the Fraud Text Alert message look like?
Immediately after a suspected fraud transaction, you will receive a text message from the phone number 37268. It will say SouthPoint Financial CU, and include the last four digits of the debit card used, amount of the transaction, and name of the merchant making the charge.
Reply YES – if the transaction is authorized (you recognize the charge)

You will receive a second text message thanking your for confirming the transaction and letting you know the account is safe for continued use.

Reply NO – if the transaction is NOT authorized (you do not recognize the charge)

The Fraud Center will message you and confirm they have placed a block on your card. You would then need to contact the number provided for help regarding next steps.

If there is no response received from the text message within 15 minutes, you will be contacted via phone.
What if I don't have a mobile phone number?
You will be contacted at the home number we have on file for you.
You will be asked questions to verify your identity.
If there is no answer, a message will be left that includes a case number and phone number for you to call and verify the transaction.
Remember, SouthPoint will never ask for your full card number, expiration date or security code.
Call 877-794-6712 or visit your nearest SouthPoint branch to add or update your mobile phone number or contact information.