Celebrate CUNA's Youth Month 2023 with SouthPoint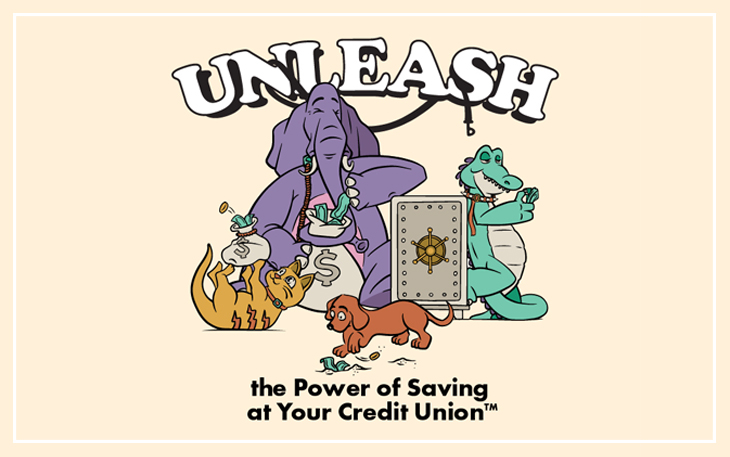 What: SouthPoint Financial Credit Union's youth savings account can encourage kids to practice good financial habits that will enable them to fulfill their dreams. 
When: April 1-30, 2023
Where: Any of SouthPoint's seven branches or at southpointfinancial.com
Who can participate: All SouthPoint members 17 and younger
Other info: Youth making a savings deposit will be eligible for prizes
The first small step to saving is usually the hardest, but once it's taken, you can use momentum to propel you forward. This year's theme for National Credit Union Youth Month is "Unleash the Power of Saving at Your Credit Union." It uses the image of an elephant, an alligator, a cat, and a dog all off their leash getting ready to deposit money. We want to tell young members that their dreams for the future are attainable, no matter when they start!
SouthPoint has tools to help fulfill these dreams. With a youth savings account, like our EzMoney Savings, that earns compound interest, young members can deposit small amounts on a regular basis and watch their savings grow big. The earlier they start a savings account, the more it will grow, and the easier it will be to achieve their dreams. Learning this good financial habit at a young age will set them up on the path of successful financial well-being.
If you have been wondering how to empower your kids to save for their future, National Credit Union Youth Month is a great opportunity to start! Join us this April as credit unions across the country encourage youth to start saving regularly. This celebration is a great time to engage kids at SouthPoint and within your community to help them learn that saving, no matter how small the amount, can help them achieve their dreams.
Young members who begin a habit of envisioning and recording their goals are more likely to achieve future goals as adults. For "Unleash the Power of Saving at Your Credit Union," we're encouraging all SouthPoint youth to color the "2023 Unleash the Power of Saving at Your Credit Union Coloring Sheet." We have provided two different options:
Coloring sheets are available at the drive thru, branches or can be printed at home and dropped off at a branch or emailed to [email protected]. Coloring sheets must be submitted by 11:59 p.m., Friday, April 23, 2023. All coloring sheets will be displayed inside SouthPoint's branch locations during the month of April. All participants will have their name go into a drawing and one random winner from each age group (0-6, 7-10, 11-17) will win a prize. Winners will be notified by May 12, 2023.