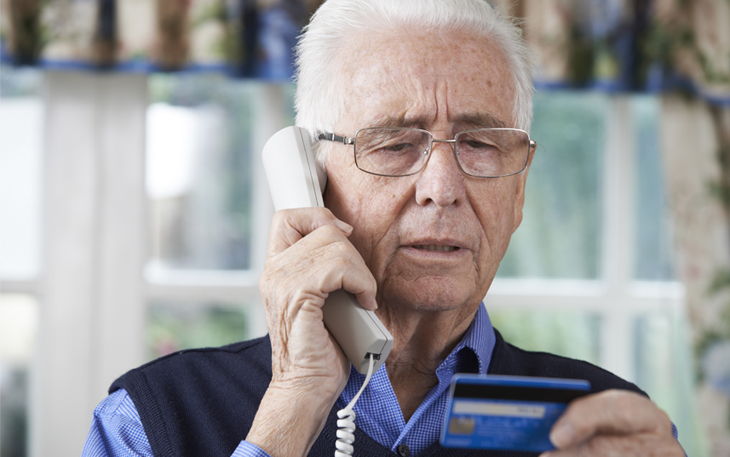 Fraudsters are consistently trying to find ways to scam innocent people. It helps to become familiar with the latest and greatest scams in order to more easily identify when you may be a target. Listed below are three of the latest scams that have been reported to the Better Business Bureau (BBB) and the five most common scams in general. In addition, be on the lookout for scams coming from natural disasters or breaking news.
The Latest: Top three Scams from the BBB
Beware of the Medicare Back Brace ScamAugust 18, 2017
Scammers often target seniors by pretending to be representatives of insurance companies or healthcare companies. Recently, the BBB is seeing a new twist on this classic con: calls from "Medicare" claiming to have your new back brace.
How the Scam Works
You pick up the phone and it's someone pretending to be a Medicare representative. From there, the con has two typical patterns. The scammer will either offer you a back brace through Medicare or claim that a caregiver called about receiving one from Medicare. If you show interest in the brace, the scammer will start asking for personal information. Don't fall for these phony claims, even if the calls are persistent! The callers offer no company name and may even hang up on you if you ask for further information.

Protect Yourself from Healthcare Scams


Medicare should already have your basic information: If Medicare or another governmental organization contacts you, they should already have your name, address and basic info.  A call claiming you have been identified for an offer is probably blasted out to thousands of phone numbers.
Never share your Medicare number with an unsolicited caller. Treat your Medicare number like your credit card info or other personal details. Do not share it with unsolicited callers.
Check BBB Tips: For more information about healthcare scams, check bbb.org/healthcarescam.

Beware of phony claims that your iCloud account was hacked: Do you have an Apple device and iCloud account? Don't let this new scam fool you. Con artists are calling people across the United States and Canada and claiming that their iCloud accounts have been hacked. BBB Scam Tracker has gotten numerous reports of this scam in the past few weeks, and some targets say they've gotten 10 or more calls a day!


How the Scam Works:


You get a robocall claiming to be from Apple Support. You Caller ID may say "Apple Inc." or the name of your local Apple store. The message informs you that your  account was hacked and prompts you to stay on the line and speak to a support technician. If you stay on the line, this technician will offer to fix your account. First, they will need remote access to your computer. Unfortunately, allowing a scammer to access your computer can open you up to the risk of identity theft. Scam artists can install malware that records passwords or hunts for personal information, such as bank account numbers, on your computer.

Protect yourself from tech support scams:

Do not give a stranger remote access to your machine: Granting someone remote access to your computer permits them to install malware and access your files. Don't do it!
Don't believe Caller ID: Victims report falling for this scam because the calls appear to come from Apple Support. Scammers often spoof phone numbers, so don't believe what you see on your phone.
Check out BBB Tips: Many tech support scams use similar techniques; see org/techsupportscam/ for more advice.

Lost pet? Watch out for this text message scam.

Posting on social media is a great way to alert a wide range of people about a lost pet. Unfortunately, that same publicity can put you at risk for scams. Con artists comb social posts to find targets who have lost their beloved pets.

How the Scam Works


Imagine that you recently lost your pet, so you turn to social media to alert friends and neighbors. You create a public post – or even a group – to help spread the word and share your phone number. A few days later, you get a text message from someone claiming to have found your lost dog or cat. After asking them to describe your pet and/or send a photo, the conversation quickly takes a strange turn. The scammer will give excuses, such as being out of town or not having a working smartphone, for why they can't snap a photo. Instead, the person will pressure you for money (or a gift card) to return your pet. Although you may be tempted to do anything to see your dog or cat returned safely, don't pay up! The scammer doesn't have your pet. They will just take the money and disappear.


How to Avoid a Lost Pet Con:

Follow these tips to prevent falling victim to a pet loss scam:

Limit the information in your social posts: If you post on Facebook or other social media, omit information about unique physical attributes.  This can help you verify if someone really found your pet.
Watch for spoofed numbers: If you get a call from someone claiming to have your pet, ask them for a phone number where you can call them back. Scammers often spoof phone numbers, so they appear to be calling from somewhere else.
Ask for a photo: If a caller claims to have your pet in their possession, ask them to send a current picture. If the "finder" gets defensive or makes a lot of excuses, it's a red flag.
Never wire money or use a prepaid debit card to pay anyone you don't know. This is the same as sending cash.
Microchip and/or ID tag your pet: Consider having your veterinarian microchip your pet, or make sure they always wear a collar and ID tag."
The Greatest: Top five Scams From the BBB
IRS scams – Phony IRS calls have declined slightly since September, but the BBB anticipates that these calls will increase during tax season. Frequently, con artists pose as IRS employees and threaten victims with prosecution if they fail to wire money.
Debt collection scams – Debt collection scams remained a mainstay among scammers in 2016, and experts believe they will continue in 2017. Like IRS scammers, fake debt collectors call consumers and demand payment, often in a threatening manner.
Lottery, sweepstakes and gift scams – Despite increased awareness, thousands of victims continue to fall for lottery and sweepstake scams each year. Often, scammers will tell victims they've won money and ask them to wire the taxes in return.
Employment scams – Despite improving employment rates, employment scams still made the top five list because many consumers remain underemployed. Scammers prey on that economic hardship, offering victims work as secret shoppers or promoters who agree to wrap their vehicles with advertising logos for a third party.  In the case of the vehicle wrap technique, the con artists often send fake checks for amounts up to $1,000 and demand $300 back to pay for the wrapping.  Soon after, the fake check will bounce and the victim will have lost $300 to the scammer.
Online purchase scams – Rounding out the top five list, scammers frequently sell fake merchandise online and pocket the money. If you are buying something online, make sure to use reputable websites and always look for the "https" at the start of the web address in your browser."
If you ever feel that you're in a situation where someone is trying to take advantage of you for financial gain, don't hesitate to reach out to us! It's always best to ask questions and be safe, rather than to be sorry later.