Grassroots Advocacy & You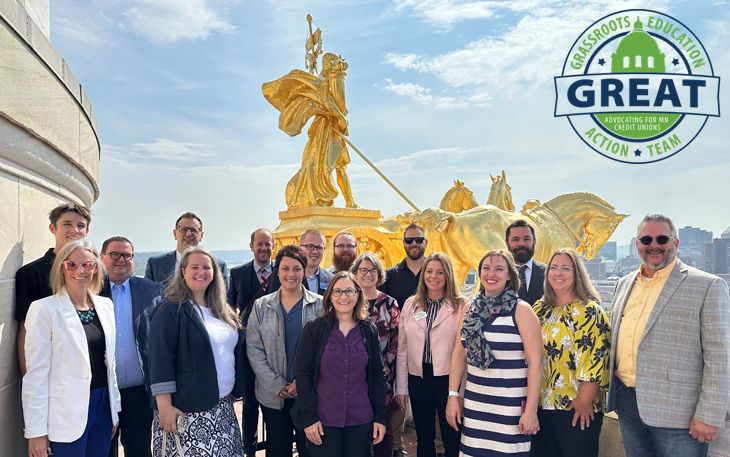 The GrassRoots Education Action Team (GREAT) is coordinated by the Minnesota Credit Union Network and powered by Minnesota credit union employees, volunteers, and members. ​GREAT provides credit union supporters a way to help preserve, protect and promote Minnesota credit unions.
Each year Minnesota credit unions save members millions of dollars in the form of fewer fees, lower rates on loans and higher returns on savings. However, ensuring that credit unions are able to continue to offer these savings requires action at the state and federal capitols.
There has never been a more important time for credit unions to be able to voice their opinions to elected leaders than now. Whether it's advocating for expanding member business lending to best serve members or pushing back on banker attacks on the credit union tax status, these efforts are directly linked to our communications with elected officials.
October is GREAT month and we are looking for members to become more aware of our Grassroots Advocacy Program by registering to be a member of GREAT and staying aware of the legislative issues that may affect Credit Unions and their members.  As a GREAT member you can SUPPORT the Credit Union by advocating to our state and federally elected officials the issues that come to the table affecting credit unions.
You can join credit union individuals around the state and nation in making a difference at the state capital as well as the nation's capital. All you have to do is register to become a member of GREAT, the Minnesota Credit Union Network's GrassRoots Education & Action Team. Through membership in GREAT you help to preserve, protect and promote Minnesota's credit unions.
Joining GREAT is free and vital to protecting credit union interests in good times as well as challenging ones. To sign up, simply visit the GREAT web site at www.greatcreditunions.org  and enter your email and zip code in the Quick Sign-up box. Be sure you enter your home address so that we can match you with your legislator.
With your help, Minnesota's credit unions can help secure their ability to continue providing products and services that put people before profit.